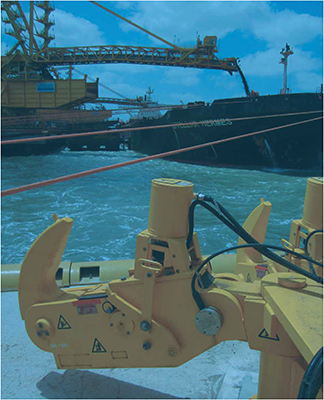 QUICK RELEASE HOOKS – IRM IS THE EXCLUSIVE SALES PARTNER FOR MAMPAEY PRODUCTS IN INDIA
Mampaey Offshore Industries B.V. is a leading supplier of Mooring, Berthing, and Towing Systems, with Safety and Reliability as a shared value. The company is based in the Netherlands and founded in 1904. The build-up of experience resulted in hooks that define today's industry standards. Mampaey Offshore Industries is ISO 9001 quality approved. Mampaey's mooring and berthing product family is integrated into the iMoor® system. This modular system provides flexibility in selecting Mampaey components to form any desired iMoor® configuration. The easy to use iMoor® application software organizes the control centrally. Mampaey Offshore Industries is a global market leader in the design, engineering, manufacturing & commissioning of integrated towing, mooring, and berthing systems.
Track record of innovative standards
Mampaey, established in 1904, has a track record of maritime innovations that have become new standards in towing and mooring. All of them are still in use by customers worldwide.
Proven quality
All Mampaey products are designed and manufactured to safely withstand the toughest mechanical and environmental conditions.
Longer lifespan and low maintenance
Mampaey's products are manufactured of materials meeting the highest standards which therefore guarantee low maintenance and a minimum number of spares needed.